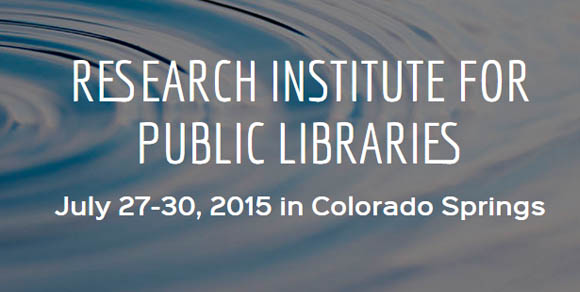 Are you…
… a public librarian, administrator, or other staff interested in getting started using data for savvy and strategic planning?
… looking for both inspiration and instruction in a hands-on, participatory environment?
… seeking to learn about outcomes and how to measure library impact?
… committed to leading your organization in making data-based decisions?
…eager to develop a peer network  to support your research and evaluation efforts?
The Research Institute for Public Libraries (RIPL) will bring together people from across the country (rural, suburban, and urban public libraries) in a sequestered environment in Colorado Springs, Colorado for intensive, experiential learning. From July 27-30, 2015, participants will learn in hands-on workshops topics such as:
designing outcome-based evaluation of programs and services
assessing the needs of your community
techniques for tracking public library data and using these data for planning, management, and proving worth to your community
using data and stories to demonstrate library impact
aligning research efforts with national initiatives such as Edge Benchmarks and the Impact Survey
 Mark your calendar!
 Enrollment opens January 5, 2015 –and only 75 participants will take part in this immersive learning experience.
If your organization would like to be a sponsor, please see http://ripl.lrs.org/docs/RIPL_Sponsorship_Levels.pdf
Want to connect with others who are interested in public library research and evaluation? Join PL-EVAL, a new listserv where you can ask questions, share ideas, and learn from experiences across the field.
 This event is hosted by the Colorado State Library and the Colorado Library Consortium. Questions? Please contact ripl.publib@gmail.com