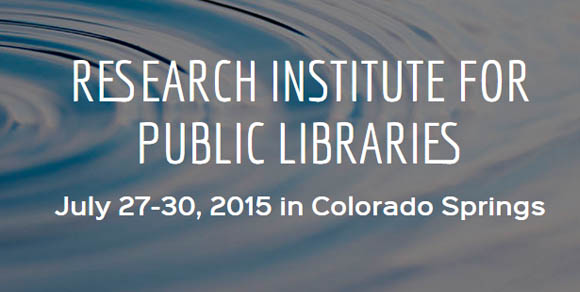 Are you interested in learning how to use data for decision making, strategic planning, and demonstrating the impact of your library? Do you work in a Colorado public library, or are you a current MLIS student interested in working in a public library? Then we hope you will consider applying for a scholarship for next summer's Research Institute for Public Libraries:
The Colorado State Library is offering up to 15 full scholarships to the Research Institute for Public Libraries (RIPL) in July 2015. This national event, hosted by the Colorado State Library and CLiC, will offer three days of hands-on, intensive workshops about:
Evaluation design and implementation
Data collection and use for strategic planning
Measures for reporting library impact
Tips for aligning research efforts with national initiatives such as Edge Benchmarks and the Impact Survey
The ideal candidate for this scholarship is:
Interested in getting started using data for savvy and strategic planning.
Looking for both inspiration and instruction in a hands-on, participatory environment.
Seeking to learn about outcomes and how to measure library impact.
Committed to leading his/her organization in making data-based decisions.
Eager to develop a peer network to support research and evaluation efforts.
To be eligible for a scholarship, you must be:
a) employed by a public library in Colorado OR
b) a Colorado resident either enrolled in a Master's in Library and Information Science (MLIS) program or a 2015 MLIS graduate at the time of the institute (this opportunity is most appropriate for students intending to work in public libraries)
Special consideration will be given to applicants working in small or rural libraries and/or those working with underserved populations. However, staff working in any Colorado public library and/or Colorado residents enrolled in an MLIS program are encouraged to apply for scholarships.
For more information and to apply, please see http://www.lrs.org/research-institute-public-libraries-colorado-scholarship-information/. Scholarship applications are due by 5 PM on Friday, November 14, 2014.