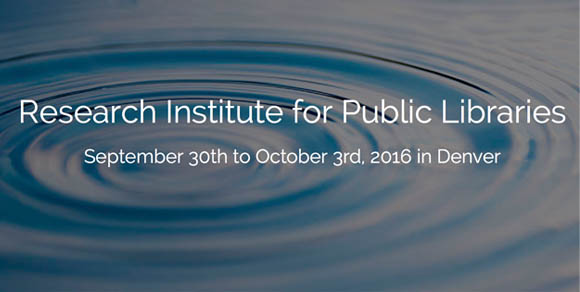 Are you…
… a public librarian, administrator, or other staff interested in getting started using data for savvy and strategic planning?
… looking for both inspiration and instruction in a hands-on, participatory environment?
… seeking to learn about outcomes and how to measure library impact?
… committed to leading your organization in making data-based decisions?
…eager to develop a peer network  to support your research and evaluation efforts?
Launched in 2015, the Research Institute for Public Libraries (RIPL) brings together people from across the country (rural, suburban, and urban public libraries) for an intensive, participatory learning experience. Offered by the Colorado State Library and the Colorado Library Consortium, this year's institute will take place September 30-October 3, 2016 in Denver, CO. Participants will learn about topics such as:
designing outcome-based evaluation of programs and services
assessing the needs of your community
techniques for tracking public library data and using these data for planning, management, and proving worth to your community
using data and stories to demonstrate library impact
aligning research efforts with national initiatives such as Edge Benchmarks, the Impact Survey, and Project Outcome
 Mark your calendar!
 Enrollment opens January 26, 2016 – and only 100 participants will take part in this immersive learning experience.
Find out more on the RIPL website.
If your organization would like to be a sponsor, please contact Elizabeth Kelsen Huber at the Colorado Library Consortium.
Here is what 2015 participants had to say about RIPL:
"This was one of the best training situations I've attended. It was laid out in a way that promoted optimal learning while still giving opportunities for networking & socializing. Great job!"
 "The curriculum & speakers were so well organized around the overall RIPL themes. It felt like a course in library data instead of individual conference sessions."
 "…This was, by far, the best conference I've ever attended and I think part of that was the fact that it was so focused on one area – we had the time to delve into the various aspects of that, as well as get to know one another and work as a team. I look forward to applying what I learned within my organization."
 "RIPL was an incredible experience. I learned so much and feel like I came back equipped with new knowledge and skills to implement some relevant data collection and evaluation practices at our library organization."
 Questions about RIPL? Please contact us.
Want to connect with others who are interested in public library research and evaluation? Join PL-EVAL, a listserv where you can ask questions, share ideas, and learn from experiences across the field.