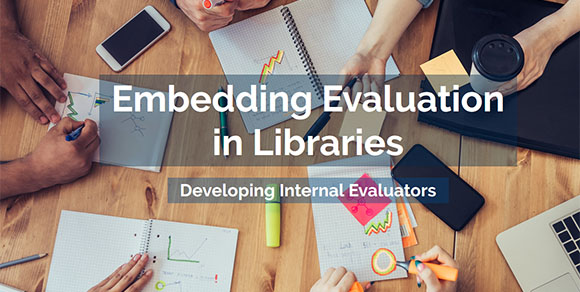 Are you wondering how to assess your library's impact? Do you have a brilliant idea for evaluating a library program or service but don't know how to get started? Did you participate in the Research Institute for Public Libraries (RIPL) and need some ongoing support to realize your big ideas? Do you supervise a public library evaluation coordinator or data librarian and find it challenging to position them for success? The IMLS-funded project Embedding Evaluation in Libraries: Developing Internal Evaluators is the training program for your library.
During a nine-month period from summer 2020 through spring 2021, teams from up to six Colorado public libraries will complete robust, outcome-based evaluation projects supported through a peer learning process that includes in-person and virtual training, coaching, and technical assistance.
To be eligible, participants must work in a Colorado public library (all library sizes and locations welcome!) and participate as a team of 2-4 staff from the same library, including the supervisor of the primary person working on the evaluation. At least one member of the team must have some previous education and/or experience in evaluation, assessment, or research methods, such as participating in a RIPL event. All team members must attend the Kickoff Institute July 27-28, 2020 at the Arapahoe Libraries Administration (Support Services) Building in Englewood, and commit to attending the 2-day Wrap-Up Institute the week of April 5-9, 2021 (exact location and dates TBD after the cohort is formed).
Want to learn more about this opportunity? We held a webinar on January 29 to provide information about participating in Embedding Evaluation and chat with a current California cohort member, Lisa Dale (Collection Services Manager, Sacramento Public Library), about her experience. The recording is linked from this webpage.
For more information about Embedding Evaluation in Libraries: Developing Internal Evaluators, see https://www.libraryeval.org/.
Questions? Please contact info@libraryeval.org.
This project is made possible in part by the Institute of Museum and Library Services grant # RE-13-19-0076-19.