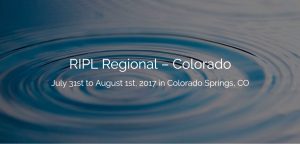 Thank you for supporting a Colorado Research Institute for Public Libraries (RIPL) Regional travel stipend applicant. Up to 14 travel stipends will be sponsored by the Colorado State Library and the Colorado Library Consortium.
For your convenience, listed below are the items that comprise the online form for the supervisor/MLIS faculty member statement of support for the Colorado scholarship application.
Name:
Email:
Organization:
Title:
Name of scholarship applicant:
Relationship to scholarship applicant:
Do you agree that the applicant: YES/NO/Not applicable (for MLIS faculty)

has permission to attend the Colorado RIPL Regional in its entirety (July 31-August 1, 2017, 8:00-5:00 both days),
will be supported in efforts to implement research and evaluation into her/his workflow, and
will be encouraged in efforts to share what s/he learned at the institute with your library and with the Colorado library community?

Please provide a statement outlining why you support the applicant attending the Colorado RIPL Regional (recommended length of response is 150-250 words)
The supervisor/MLIS faculty member statement of support must be submitted via the online form. Please be aware that you cannot save your answers and return to them at a later time to continue working. Therefore, we strongly recommend writing your answer to question #8 above in a separate document and then copying and pasting it into the online form.
The supervisor/MLIS faculty member statement of support is due by 5 PM on Wednesday, February 15, 2017, and applicants will be notified of their acceptance status by March 3, 2017.
Questions? Please contact:
Amanda Jacobs Foust
RIPL Project Coordinator
ajacobsfoust@coloradostatelibrary.org
720.376.9441