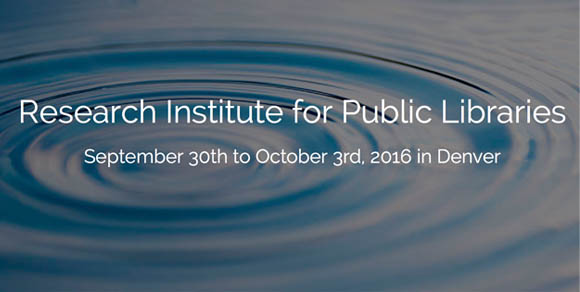 Thank you for your interest in applying for the Research Institute for Public Libraries (RIPL) scholarship, sponsored by the Colorado State Library. Up to six scholarships are available. The scholarships cover the full cost of the institute, including:
Registration
Curriculum and materials
Three nights lodging
Most institute meals (dinner Sept. 30; breakfast, lunch, and snacks Oct. 1-3)
The ideal candidate for this scholarship is:
Interested in getting started using data for savvy and strategic planning.
Looking for both inspiration and instruction in a hands-on, participatory environment.
Seeking to learn about outcomes and how to measure library impact.
Committed to leading his/her organization in making data-based decisions.
Eager to develop a peer network to support research and evaluation efforts.
To be eligible for a scholarship, you must be:
a) employed by a public library in Colorado OR
b) a Colorado resident either enrolled in a Master of Library and Information Science (MLIS) program or a 2016 MLIS graduate at the time of the institute (this opportunity is most appropriate for students intending to work in public libraries)
Note: The scholarships are contingent upon meeting these conditions at the time of the institute. If you take a job outside of a public library (for condition a) or move out of state (for conditions a or b) in between submitting this application and the institute, you will forfeit the scholarship.
If selected, scholarship recipients must:
attend RIPL in its entirety (beginning with an evening event on September 30 and ending in the late afternoon on October 3, 2016) and complete pre- and post-institute work,
stay onsite at the Inverness Hotel,
complete the multi-part institute evaluation, and
share what they have learned with their library and the Colorado library community through at least one of the following:
Applications will be rated on the following:
Overall quality of responses to the following questions:

Why are you interested in attending RIPL?
What skills do you hope to gain or enhance through participation in the institute?
How do you plan to implement the knowledge and skills gained at RIPL in your library? (Or, for MLIS students not currently working in a public library, please answer this question in terms of how you would implement the knowledge and skills in a future position at a public library.)
How do you plan to share what you have learned with a) staff at your library and b) the Colorado library community? (Or, for MLIS students not currently working in a public library, please answer this question in terms of how you would share what you have learned with your fellow MLIS students.)

Written communication skills
Commitment to learning about data and incorporating research and evaluation into workflow
Passion for making data sing
In addition, special consideration will be given to applicants working in small or rural libraries and/or those working with underserved populations. However, staff working in any Colorado public library and/or Colorado residents enrolled in an MLIS program are encouraged to apply for scholarships.
You can view the rubric that will be used to evaluate scholarship applications here.
Application Process:
To be considered for a RIPL scholarship, you must submit the following:
Scholarship application.
Statement of support from supervisor/MLIS faculty member (for current MLIS students not working in a public library). Public library directors applying for RIPL scholarships should have their reporting authority (e.g., board president, city manager, etc.) complete this statement.
Both of these components must be submitted via the following online forms:
Statement of support from supervisor/ MLIS faculty member. It is the responsibility of scholarship applicants to provide this link to their supervisor/reporting authority/MLIS faculty member and make them aware of the information contained on this page.
Please be aware that within the online forms linked above you cannot save your answers and return to them at a later time to continue working. Therefore, we strongly recommend writing your answers in a separate document and then copying and pasting them into the scholarship application/supervisor statement of support. You may preview the scholarship application and supervisor/MLIS faculty member statement of support before applying.
Applications are due by 5 PM on Friday, November 13, 2015, and applicants will be notified of their acceptance status by mid-December 2015.
Questions? Please contact:
Linda Hofschire
Research Analyst, Library Research Service, Colorado State Library
Hofschire_L@cde.state.co.us
303.866.6827