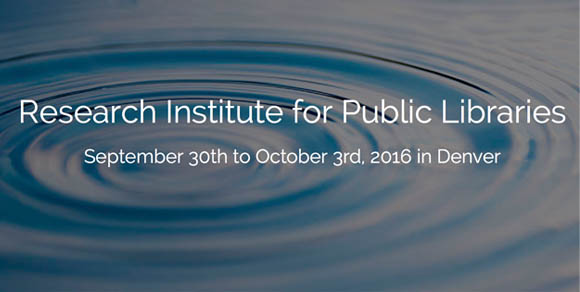 Thank you for your interest in applying to be a Research Institute for Public Libraries (RIPL) facilitator. Up to 10 facilitator positions are available.
For your convenience, listed below are the items that comprise the online facilitator application:
Please complete the following information:
Name:
Library:
Job Title:
Mailing Address:
City/Town:
State:
Zip:
Email Address:
Phone number:
Why are you interested in being a RIPL facilitator?
Please describe your experience facilitating small groups:
In your prior facilitation experiences, what strategies have you used successfully to a) foster participant engagement in discussions and learning activities, and b) help participants connect with each other?
Please describe a) your prior experience, if any, with the topics that will be covered at RIPL (see the "program" section of the 2015 site for session titles and descriptions), and b) what you hope to learn at RIPL: [Note: Prior experience could include coursework, on the job experience, etc.]
The recommended length of response for each question (#10-#13) is 150-250 words.
The facilitator application must be submitted via the online form. Please be aware that you cannot save your answers and return to them at a later time to continue working. Therefore, we strongly recommend writing your answers in a separate document and then copying and pasting them into the facilitator application.
View the rubric that will be used to evaluate facilitator applications here.
Applications are due by 6 PM MST on Friday, December 11, 2015, and applicants will be notified of their acceptance status before the end of December.
Questions? Please contact:
Linda Hofschire
Research Analyst, Library Research Service, Colorado State Library
Hofschire_L@cde.state.co.us
303.866.6827