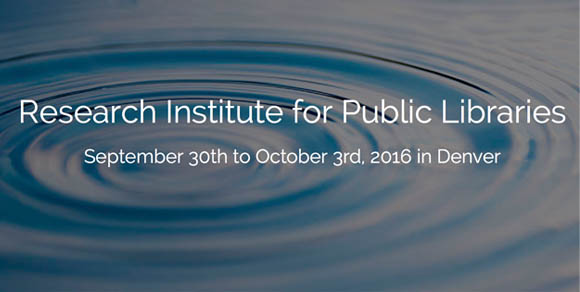 Thank you for supporting a Research Institute for Public Libraries (RIPL) scholarship applicant. Up to six scholarships will be sponsored by the Colorado State Library.
For your convenience, listed below are the items that comprise the online form for the supervisor/MLIS faculty member statement of support for the Colorado scholarship application.
Name:
Email:
Organization:
Title:
Name of scholarship applicant:
Relationship to scholarship applicant:
Do you agree that the applicant: YES/NO/Not applicable (for MLIS faculty)

has permission to attend RIPL in its entirety (beginning with an evening event on September 30, 2016 and ending in the late afternoon on October 3, 2016),
will be given time to complete pre- and post-institute work,
will be supported in efforts to implement research and evaluation into her/his workflow, and
will be encouraged in efforts to share what s/he learned at the institute with your library and with the Colorado library community?

Please provide a statement outlining why you support the applicant attending the Research Institute for Public Libraries (recommended length of response is 150-250 words).
The supervisor/MLIS faculty member statement of support must be submitted via the online form. Please be aware that you cannot save your answers and return to them at a later time to continue working. Therefore, we strongly recommend writing your answer to question #8 above in a separate document and then copying and pasting it into the online form.
For more information about the RIPL scholarship application process, please see http://www.lrs.org/research-institute-for-public-libraries-2016-colorado-scholarship-information/.
The supervisor/MLIS faculty member statement of support is due by 5 PM on Friday, November 13, 2015, and applicants will be notified of their acceptance status by mid-December 2015.
Questions? Please contact:
Linda Hofschire
Research Analyst, Library Research Service, Colorado State Library
Hofschire_L@cde.state.co.us
303.866.6827