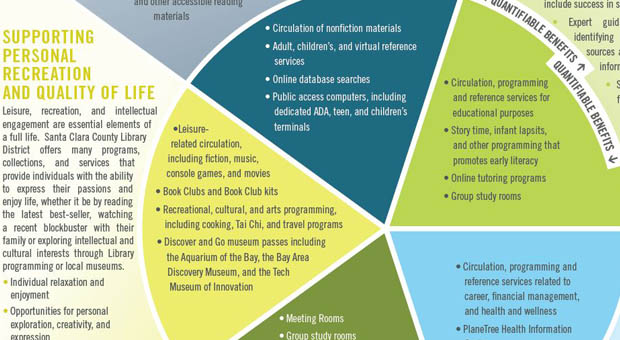 Image credit: Santa Clara County Library District
What value does your library provide to users? A recent return on investment (ROI) study of Santa Clara County Library District (SCCLD) examined how their community benefited from the library in 5 areas:
Enhancing early literacy and youth education
Promoting lifelong learning and personal growth
Building and bridging diverse communities
Providing access to information and technology for all
Supporting personal recreation and quality of life
The results showed  that in 2011-12, for every dollar that SCCLD spent, the community received between  $2.50 and $5.17 in quantifiable benefits (computers, programming and community events, materials, etc.). In other words, taxpayers received up to a 400% return on investment. Of course, many library features cannot be easily counted, so stakeholder interviews were also conducted to examine the intangible benefits that users received. A wide range of benefits were identified, including the following:
An efficient, environmentally-conscious way to provide shared resources
Opportunities for exploration, creativity, and expression
A gathering place for diverse communities throughout the library district
Individual and community benefits of personal health and wellness
Expert guidance in identifying reliable information sources  and the cultivation of information literacy
Are you trying to demonstrate the value of your library to stakeholders? Check out the study report for some ideas on documenting its quantifiable and non-quantifiable benefits.
Note: This post is part of our series, "The Weekly Number." In this series, we highlight statistics that help tell the story of the 21st century library.