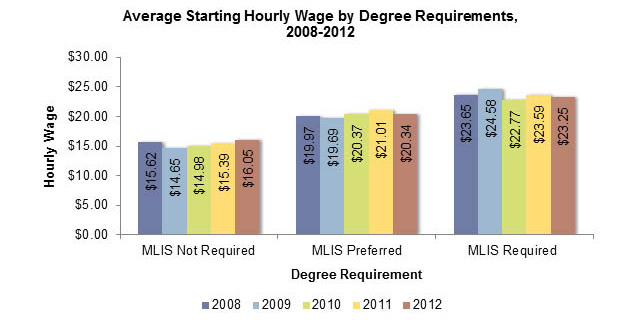 Based on 5 years of job postings on our own Library Jobline, we've found that starting wages for library jobs are stagnant overall (see our Fast Facts). But this is only one piece of the pay equity puzzle: The American Library Association–Allied Professional Association (ALA-APA) has published an updated Pay Equity Bibliography. The bibliography includes resources on pay equity, certification, faculty status, gender, and worker competencies, as well as salary negotiation, legislation, and various economic factors. Salary data and statistical information is also provided to help library professionals understand what they are worth. From the report: "The emphasis for items included in the bibliography is on practical rather than theoretical materials and on more recent information on pay equity; however, there are items from previous versions of the Pay Equity Bibliography included. This list is by no means exhaustive."
Learn more about the Colorado library job market, salary trends, and other workforce topics in our Fast Facts reports.
Are you currently in the job market? Be sure to visit Library Jobline, for job posting from Colorado and beyond (like Texas and Qatar). And for even more job hunting strategies, visit our Twitter feed @libraryjobline where we'll share tips and tricks using #JobTip.