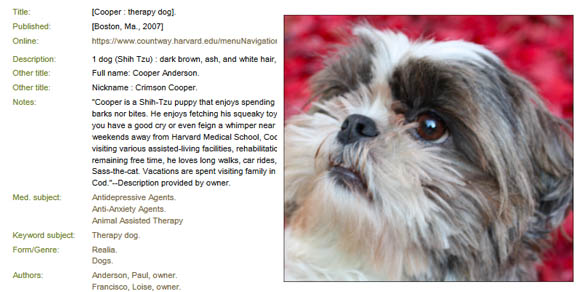 Did you know that some libraries loan – or provide access to – animals and people, for the general well-being of their patrons? Students at Harvard, Yale, and Emory can de-stress and momentarily escape the rigors of academic life by checking out a library therapy dog. At Harvard Library, for instance, students can borrow Cooper, a tiny six-year-old Shih Tzu, for 30 minutes at a time. Meanwhile, several public libraries throughout the U.S. and Canada, such as the San Francisco Public Library, have professional social workers and/or outreach workers on staff to provide patrons with information about emergency services (e.g., food, housing), family matters, and immigration. Finally, "human library" programs – offered at places like the Santa Monica Public Library and the Bainbridge Island Public Library – allow patrons to converse, one-on-one, with others who have had unique life experiences. Pioneered in Denmark, human library programs aim to expose patrons to alternative perspectives – thereby increasing their understanding – and produce a sense of common ground. Find out more about these unique programs by following these links:
1.)    Therapy dogs:
Cooper, the Shih Tzu – Harvard Library, Harvard University
Monty, the border terrier mix – Yale University Library, Yale
Multiple therapy dogs – Robert W. Woodruff Library, Emory University
2.)    Professionals (discussed in Multnomah County Public Library's report, Homelessness, Human Services, and Libraries):
Social worker – San Francisco Public Library
Outreach/social workers – Edmonton Public Library
Outreach worker – Sacramento Public Library
Public health nurses  – Pima County Public Library
3.)    People to converse with, who have had unique life experiences, via "human library" programs:
Does your library loan animals and/or humans? Let us know by chatting with us on Twitter.
Note: This post is part of our "Beyond Books" series. From time to time, we'll be sharing examples of unique lending programs, events, and outreach that libraries are offering.