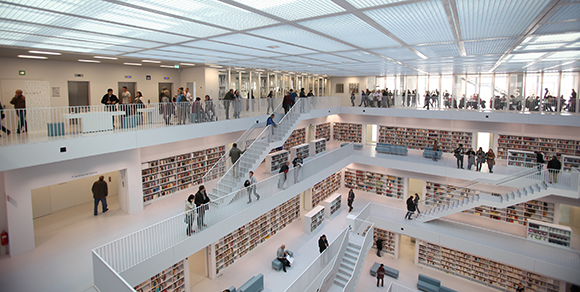 The Andrew W. Mellon Foundation recently released the results of a study examining diversity in academic libraries. Ithaka S+R was commissioned to survey member institutions of the Association of Research Libraries (ARL) to find out how the academic library community perceives its progress towards more inclusive and diverse libraries.
Across the ARL libraries surveyed, about 3 in 5 (61%) library staff are women and 2 in 5 are men (38%). These gender ratios remain consistent across levels of management and seniority, but begin to vary among different positions within the library. More than 4 in 5 (84%) library communications positions are filled by women. Finance/development, human resources, and information literacy/teaching topped out the female-skewed positions (between 72%-82% female). Positions primarily staffed by men include security (73% men), technology (70%), maker space/design lab (65%), and facilities/operations (64%). When directors of the participating institutions were asked how their library compared to others in terms of gender equality, they considered their own library to be less inclusive than the larger academic library community.
In addition to being a largely female profession, 7 in 10 (71%) academic library staff members are white non-Hispanic. Unlike gender, ethnicity varies across management and seniority levels – nearly 9 in 10 (87%) senior staff are white non-Hispanic. Academic library directors considered their own library to be more equitable in terms of race and ethnicity compared to the library community, but felt that their libraries were less racially diverse than the library community. The directors surveyed mostly attributed the lack of diversity to external factors that might be limiting the number of job applicants from diverse backgrounds rather than internal factors like bias in the interview process or an inclusive library culture.
For more information about diversity in academic libraries, the full report can be found here.
Note: This post is part of our series, "The LRS Number." In this series, we highlight statistics that help tell the story of the 21st-century library.