Librarian salaries in Colorado's larger public libraries are keeping pace with national averages, according to data collected by the Library Research Service and the American Library Association's (ALA) annual salary survey.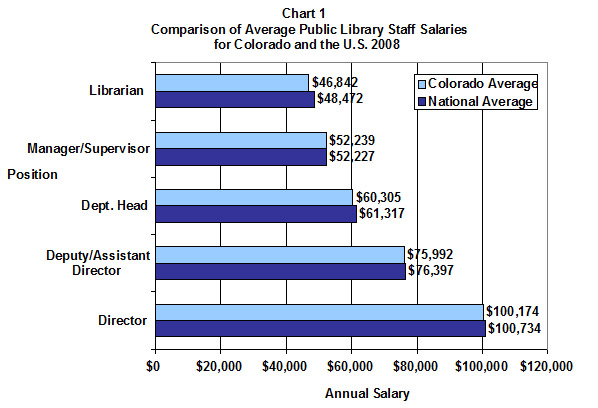 Salaries for managers/supervisors in Colorado libraries were nearly equal to the national average. Salaries for all other positions lagged behind the national statistics by an average of about $900 annually (see Chart 1).
The ALA survey found librarian salaries nationwide gained 2.8 percent between 2006 and 2007 for all positions in public libraries of all sizes. In Colorado libraries serving populations of 25,000 or more, salaries for all positions increased an average of 5.6 percent between 2006 and 2007.
Note: The averages used in this article were calculated using average salaries reported by LRS and the ALA salary survey for libraries serving populations 25,000 and more. In 2007, 26 public libraries in Colorado served populations more than 25,000. Because job duties and descriptions in smaller libraries tend to vary widely and are therefore more difficult to compare, smaller libraries were not included in this analysis.
Sources
Grady, J. & Davis, D. (2008). 2008 ALA-APA Salary Survey: Librarian – Public and Academic. American Library Association – Allied Professional Association.
Library Research Service. (2008). 2007 Colorado Public Library Annual Report (Survey). www.lrs.org/public/stats.php?year=2007.