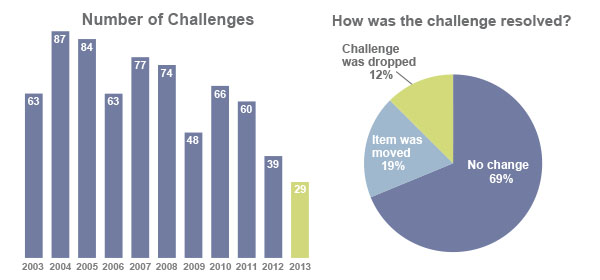 Each year, LRS reviews the Public Library Annual Report for information specifically about challenges: How many items were challenged, reasons for the challenges, and what happened as a result of the challenges. In our newest Fast Facts, we take a deeper look into the results as a snapshot of intellectual freedom issues in Colorado for 2013.
What's the verdict? After a peak of 87 in 2004, overall numbers of challenges have gradually decreased, reaching a 10-year low of just 29 challenges in 2013. As for the challenges themselves, most attributes have held fairly steady over time. For the past 5 years, the most common action taken after a challenge is filed is no action at all—items aren't moved or reclassified, simply left as is—presumably after library staff provide additional information on collection development policies. Top reasons for challenges have typically included "sexually explicit," "unsuited to age group," and "violence." Books continue to be the most common format of challenged items, while video has consistently held second place for the past 5 years.
However, one shift in the nature of public library challenges is the intended audience of the challenged materials—adults, young adults, or children. Adults have consistently held the No. 1 spot as the intended audience for challenged materials, but No. 2 has gradually shifted from children to young adult. In fact, in 2013 young adults were the intended audience of 29% of challenges with a specified audience—up nearly 180% from 2012.
Check out other trends from 2013's public library trends in the full Fast Facts report. Did your library have any challenges last year?
Note: This post is part of our series, "The Weekly Number." In this series, we highlight statistics that help tell the story of the 21st-century library.