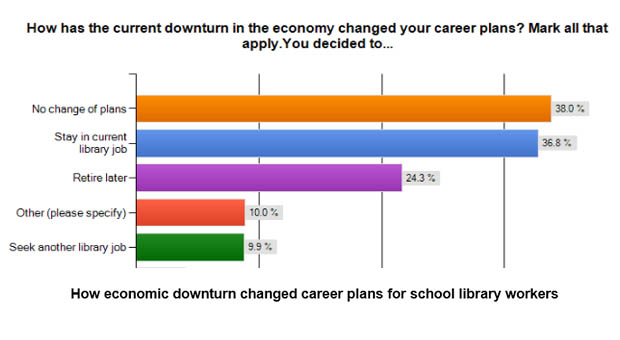 Image credit: Library Leadership & Management
A new study published in Library Leadership & Management dives into results from a national survey of current library workers regarding their retirement plans, particularly after the economic downturn. Analysis suggests that while more than one-fourth of respondents ages 50-59 and almost three-fourths of respondents in their 60s and 70s plan to retire in the next 5 years, close to half of all respondents said that the economic downturn would lead them to retire later and/or stay in their current job. For three-fourths of respondents, pay and health benefits were "very important" or "critical" factors in their decisions to keep working. As might be expected, those at school libraries were far more likely to leave the field or retire early than their public and academic library colleagues, perhaps alluding to the vulnerable status of school libraries.
Learn more about the changing library workforce here in Colorado at our webpage devoted to publications, presentations, and research on the topic.
Note: This post is part of our series, "The Weekly Number." In this series, we highlight statistics that help tell the story of the 21st century library.