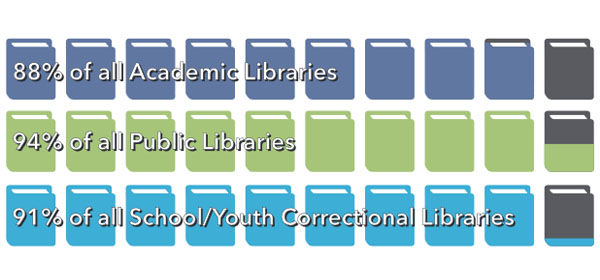 In 2013, the Colorado State Legislature granted $2 million for libraries to support or enhance early literacy and early learning educational materials. For 2014-15, this funding was renewed and the application period is open now! In the meantime, we're taking a look back to highlight how 2013-14 went.
Through a non-competitive grant process, each eligible library received $3,000 plus remaining funds designated on a per capita basis. You can find a breakdown of the 2013-14 awards here. For 41 libraries, the grant more than doubled their collection budgets. Nine in 10 Colorado libraries received funding: 88% of all academic libraries, 94% of all public libraries, and 91% of all school and youth correctional libraries. Don't miss the infographic that breaks down awards by county and highlights stories from grant recipients.
Here are just a few quotes from libraries about how they used their funds last year:
We used the funds from the State Library Grant to purchase children's books to add to our collection we have in our Capulin satellite library. The children were very excited to see and read the new books. We have seen more children and parents coming and using the library since we have the new books. – Conejos County Library District
The grant is being used to partially fund Pebble Go for our elementary schools. Schools use the data base to access informational text for all levels of reader. Being able to access informational text that is appropriate for our younger readers and is important in supporting Colorado Academic Standards. – Mesa County Valley 51
We are one of the busiest academic libraries in the state. During the spring, summer, and fall semesters, our library is packed with students studying, researching, and preparing for their classes. This grant helped us pay for one of our most important online databases EBSCOHost, which can be used by students both in the library, on campus, and remotely. – Auraria Library
New to state grants? Learn more through an introductory webinar on August 26 at 9:00am. And visit the State Grants to Libraries website for details on eligibility, purchasing recommendations, and reporting details.
Receive a grant in 2013-14? Share your stories with us on Twitter!
Note: This post is part of our series, "The Weekly Number." In this series, we highlight statistics that help tell the story of the 21st-century library.