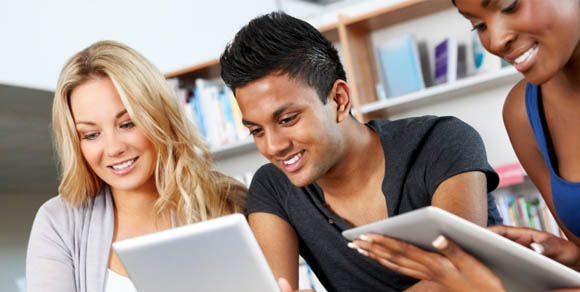 Last month, we reported on Library Journal's and School Library Journal's survey of public and school libraries, which indicated that e-book acquisition continues to rise steadily in both settings. However, demand for e-books was found to be lackluster in public libraries and downright disappointing in school libraries. Nielsen recently conducted a study that sheds some more light on e-book usage, specifically among teens. Although teens today are more technologically adept that ever before, 13-17 year olds are slightly more likely to be reading print than adult age groups.
For the study, Nielsen combined data from two separate online surveys that together represent 9,000 book buyers from across the U.S. The study found that despite teens' openness to new technologies and e-books in particular, just 20% of teens are actually buying their reading material in this format, compared to 23% of 18-29 year-olds, and 25% of 30-44 year olds. Economic and parental restraints are cited as possible causes, in addition to the fact that libraries and bookstores are still the primary outlet for obtaining books for more than half of teens.
Though the study does come with the caveat that it appears teens today are reading less for pleasure than previous generations of young people, selection of materials among teens who read remains a very social process that is aided by newer technologies and social media. For example, nearly half (45%) of teens are at least moderately swayed by how books are portrayed on sites like Facebook and Twitter. And the rampant success of many YA series could be partially explained by the finding that three-fourths (76%) of teens cite the author's previous works as an influence on future selections. With 80% of YA readers over the age of 18, however, both public and school libraries should be concerned with how to capture young readers in all of today's available formats.
Note: This post is part of our series, "The Weekly Number." In this series, we highlight statistics that help tell the story of the 21st-century library.