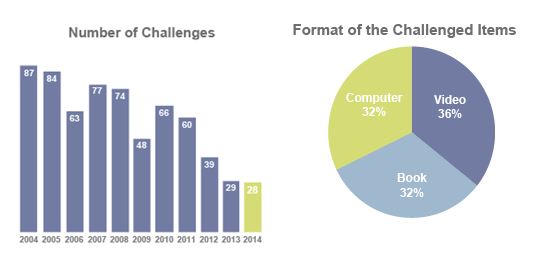 As part of our yearly investigation into the materials that are challenged in public libraries in Colorado, our latest Fast Facts delves into detail concerning the format, audience, reason, and resolution of the materials challenges that were reported in the 2014 Public Library Annual Report. Information provided about these challenges help us to gauge the climate of intellectual freedom in Colorado public libraries over time.
So how did Colorado libraries fare in 2014? The total number of challenges over the years continues its overall downward trend. This trend has recently leveled out somewhat, however, since the number of challenges decreased by only 3% from 2013 to 2014. Several factors remained consistent from previous years, including the most common audience for challenged materials, adults, which represented the audience for three-quarters (76%) of challenges in 2014. There was also little change in the manner in which challenges were handled by the library; for the majority of challenges, no changes were made at all, meaning that the items were not reclassified, moved, or removed. While "sexually explicit" and "violence" remained two of the most cited reasons for the challenge, "other," non-categorized reasons continue to rise.
An interesting shift taking place is the most common format of challenged materials. In 2014, videos eclipsed books as the most challenged format, at 36% of the total challenges. Book and computer challenges each represented another third (32%) of the challenges. Yet the percent of challenges to books has declined by more than a third (36%) since 2013. The cause of these changes is not clear, but could be related to an increased diversity in the kinds of formats offered by public libraries, and/or changes in how formats are perceived by individuals.
Take a look at all of the data and trends from 2014 in the full Colorado Public Libraries Challenges Fast Facts report.
Note: This post is part of our series, "The Weekly Number." In this series, we highlight statistics that help tell the story of the 21st-century library.