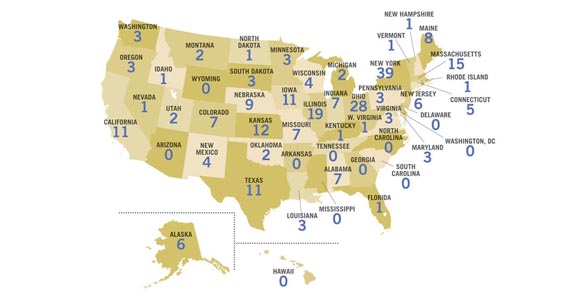 7 libraries in Colorado have been named Star Libraries by the 2015 Library Journal Index of Public Library Service. Colorado ranks 11th out of 41 states with star libraries, and is tied with three other states (Indiana, Alabama, and Missouri) that also have 7 star libraries. The 7 star libraries in Colorado are:
Arapahoe Library District
Denver Public Library
Douglas County Libraries
Holyoke/Heginbotham Library
La Veta Regional Library District
Limon Memorial Library
San Miguel Library District #1 (Telluride)
Although a few libraries that were Colorado star libraries last year are no longer represented on the list, Holyoke/Higenbotham is a new addition to the star library cohort this year.
The LJ Index, which is used to determine star libraries around the country, is a measure that compares public libraries with others that have similar expenditures based on the output measures of circulation, library visits, program attendance, and public internet computer use. Output measures (as opposed to other measures used for library assessment, inputs and outcomes), are quantifiable measures of various services that the library renders. These outputs are based on data provided by public libraries in the IMLS Public Library Survey.
The kinds of outputs measured by the LJ Index have begun and will continue to change over the next several years. For example, the 2015 star library ratings are the first to include e-circulation as part of its measures, and the 2016 ratings will be the first to account for all reference transactions, including virtual. This is an attempt to control for the fact that many library visits and services today are virtual as opposed to physical. Another factor that will affect the star library ratings in the coming years is increasing competition; more libraries than ever before, a whopping 7,663, were scored on the LJ Index in 2015.
This year's report also includes a handy how-to on DIY LJ Index projects, so you can figure out how to leverage the index data to evaluate how your library stacks up against its peers. Whether or not your library was named a star library this year, you can find all of the data here.
Note: This post is part of our series, "The Weekly Number." In this series, we highlight statistics that help tell the story of the 21st-century library.