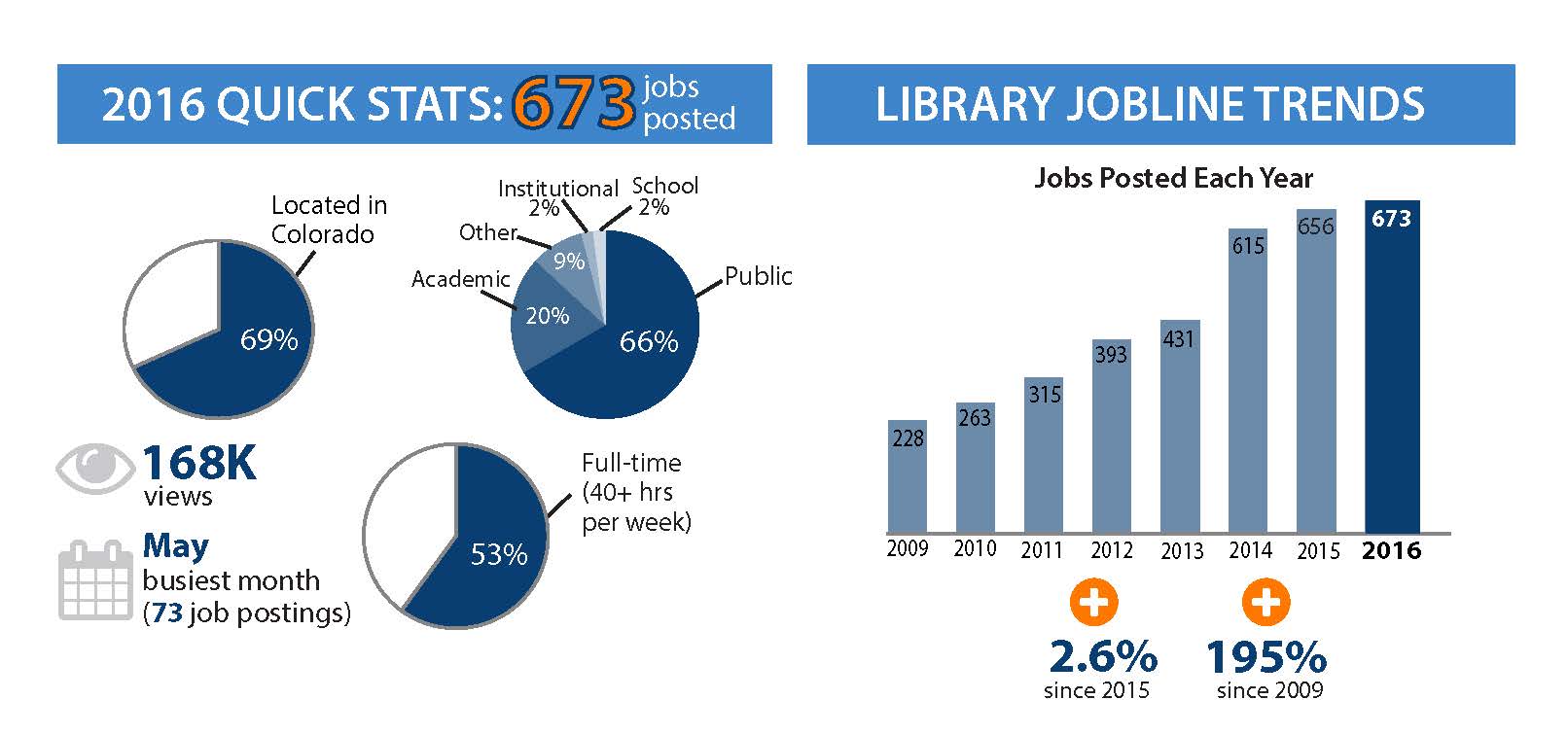 Library Jobline, LRS's website for library job postings and resources, posted a record number of jobs in 2016 and saw a continued increase in the number of people using the website to post and search for jobs. Data collected from the Library Jobline website are highlighted in the most recent Fast Facts report.
In 2016, 673 library jobs were posted to Library Jobline, with May being the busiest month for job postings (73 posts). More than two-thirds (69%) of jobs posted were located in Colorado, and over half (53%) were full-time positions. A majority of jobs posted were in public libraries (66%), while 1 in 5 (20%) were academic library jobs. Jobs in institutional libraries, school libraries, and other institutions made up the remaining posts.
Salaries for library positions have also remained steady after an increase from post-recession lows. Average hourly salaries for Academic library positions ($21.96) were similar to last year, and Public library positions ($22.09) increased by 6% since 2015. The average hourly salary for School libraries ($19.22) recovered from its low in 2015 ($16.62). Average salaries for positions not requiring an MLIS jumped about another dollar to $18.12/hour, while average salaries for jobs requiring an MLIS continued to hover around $24.28/hour.
Subscriptions to Library Jobline have also continued to grow, with 556 new jobseekers and 154 new employers added in 2016. This led to more than 823,000 emails with job opportunities sent to jobseekers –more than 2,000 emails a week!
Are you hiring at your library? In the library job market yourself? Sign up for Library Jobline as an employer or jobseeker. Jobseekers can specify what jobs they're interested in and get emails sent straight to their inbox whenever new posts meet their criteria. Employers can also reach nearly 5,000 jobseekers and more than 1,000 followers on Twitter @libraryjobline.
Note: This post is part of our series, "The LRS Number." In this series, we highlight statistics that help tell the story of the 21st-century library.