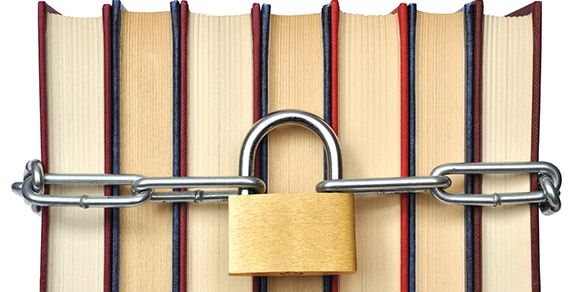 Just in time for Banned Books Week, LRS's latest Fast Facts report summarizes the results of our annual investigation into the materials that are challenged in public libraries across Colorado. This Fast Facts details the number, type, and reasons for the challenges reported in the 2016 Public Library Annual Report. The information that public libraries provided to us about these challenges help determine the attitude toward intellectual freedom in Colorado now and over time.
After hovering at just under 30 challenges from 2013-2015, the number of challenges dropped to 22. This continues a consistent downward trend in the number of reported public library challenges since 2010.
Like in previous years, materials for adults were challenged most often, making up well over half (60%) of all challenges. Just over a third (35%) of challenges were aimed towards children's materials, and only 5% of challenges were for young adult materials. About two-thirds (68%) of challenges resulted in no change at all, which has been the most common resolution for public library challenges in recent years. "Sexually explicit" (50%) and "Other" (17%) held onto their top spots as the most frequent reasons cited for the challenges. "Homosexuality," "Nudity," "Sexism," and "Unsuited to Age Group" all tied for third at 14%.
Fewer types of materials were challenged in 2016 than in 2015. Videos were challenged most, making up over half (55%) of all challenges. About a third (36%) of challenges were aimed at books, and there were a few challenges to periodicals (5%) and computer policy (5%). Unlike in 2015, there were no challenges to library activities, audiobooks, or music.
For more results from the Public Library Challenges Survey, check out the full 2016 Challenged Materials in Public Libraries Fast Facts report.
Note: This post is part of our series, "The LRS Number." In this series, we highlight statistics that help tell the story of the 21st-century library.