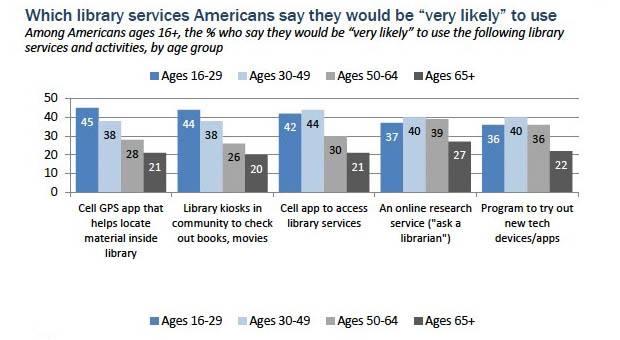 Image credit: Pew Internet
The Pew Research Center's newest stats from its Internet & American Life Library Services Survey dive into younger Americans' (16-29 years old) library and reading habits and reveal an interesting blend of technology and traditional service expectations. Perhaps most telling is that this group is significantly more likely to have either used technology at libraries or accessed online library services than adults older than 30. For example, 38% of younger Americans have used computers and the internet at libraries in the past year, compared with 22% of Americans ages 30 and older. Such tech-centric use is balanced by the younger generation's ties to print media, as three-quarters say they have read at least one print book in the past year, well above the 64% of older adults. This mix of preferences extends to library services, with 3 out of 4 younger adults saying it's very important for libraries to offer free access to computers and the internet as well as books for borrowing.
For more on Americans' reading habits over time, check out Pew's interactive tool reporting stats by age group.
Note: This post is part of our series, "The Weekly Number." In this series, we highlight statistics that help tell the story of the 21st century library.