In 2010, the Library Research Service (LRS) administered the fourth patron satisfaction and outcome survey for the Colorado Talking Book Library (CTBL). It is clear from the survey results and the comments left by respondents that the overwhelming majority of patrons are very pleased with CTBL service.  Overall satisfaction is quite high—nearly all respondents (98%) rated CTBL as excellent or good (see Chart 1).
About CTBL
The Colorado Talking Book Library (CTBL) provides free library services to around 7,000 patrons who, due to physical, visual, or learning disabilities, are unable to read standard print material.
CTBL's collection consists of 58,000 talking books, 7,000 digital titles, 6,000 titles in Braille, 19,000 titles in large print, and about 300 descriptive videos.
CTBL is part of the Colorado State Library, a division of the Colorado Department of Education, and is affiliated with the Library of Congress, National Library Service for the Blind and Physically Handicapped (NLS).
Chart 1
Respondents' Overall Satisfaction with CTBL

Features of CTBL Service
In addition to rating their overall satisfaction with CTBL, respondents were asked to rate their satisfaction with selected components of CTBL service.  Overall, respondents expressed satisfaction with all of the components of service asked about; no component was rated below 79% excellent or good. Respondents had the highest satisfaction with "courtesy of library staff," receiving 99% excellent or good and "speed with which we get books to you," with 97% excellent or good (see Chart 2).  Although still at very high levels, the 2 lowest rated components of service were the "Colorado Talking Book Newsletter," which 93% of respondents rated excellent or good, and "the book titles we select for you," at 79% excellent or good. Satisfaction with the newsletter and titles reflect a small drop from previous years.
CTBL Services
• Books may be ordered via mail, email, phone, fax, or online.
• The library loans the playback machines free of charge to its patrons.
• Patrons can request specific titles or books can be selected for them based on their reading interests.
Two other service components also saw changes in the ratings from 2008—"quality of the playback machine we have loaned to you" and "completeness and condition of the books you receive"—experiencing a dramatic increase in the number of respondents that rated these as excellent. Almost three-quarters of respondents rated the quality of the playback machine as excellent (74%) in 2010 compared to 44 percent in 2008, while the excellent ratings for the completeness of the books increased to 69 percent in 2010 from 57 percent in 2008.  Debbi MacLeod, CTBL Director, attributes this change to the rollout of new digital talking book players that started in September 2009.  Many of the comments left by respondents referred to the improvement in the digital machines over the older cassette players.
 Chart 2
Percentage of Respondents Rating Selected CTBL
Service Components as Excellent or Good
Outcomes of CTBL Use
By far, reading for pleasure is the most frequently valued outcome of CTBL service, selected by more than 8 out of 10 (85%) survey respondents (see Chart 3).  Several comments reflected this, as they frequently mentioned how much of a gift it is to just be able to read with the assistance of CTBL services. More than 1 in 3 patrons (37%) reported that they learned more about a personal interest using CTBL services.  Finding information for school was the third-most selected value of CTBL (16%), which is the same as 2008.  This may reflect the increase in the number of school aged patrons who received and responded to the survey in the 2008 and 2010 survey. In the 2006 survey, only 7 percent of respondents valued finding information for school.
"Thank you for all you have ever provided me. Without your services I would have never learned all I have about the world and the things I have a passion for in life."

"You are my social connection, my educational connection, my connection to Colorado. Because of this library I have learned soooo much. You have saved my sanity. You allow me to reach around the world. My main method of communication is the phone, and you let me do that…I love my library."
Chart 3
Percentage of Responses Indicating Selected Outcomes of CTBL Services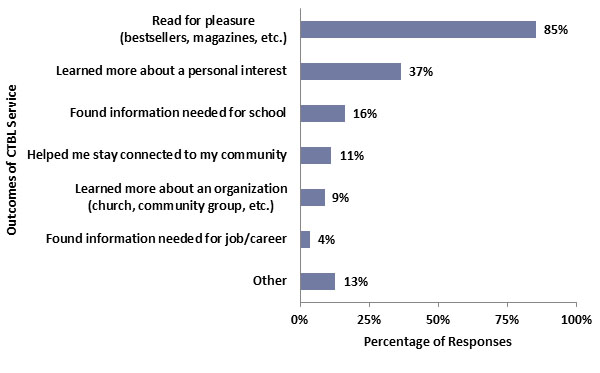 Note:  Respondents could select more than 1 outcome.
Consistent Over the Years
Overall, the satisfaction level of CTBL patrons has held fairly steady over the years (see Chart 4).  The percentage of patrons who have rated CTBL services as "excellent" has fluctuated somewhat between a high of 85 percent in 2006 to just below 80 percent in 2004 and 2008.  There has been a similar fluctuation of about 5 percent in "good" ratings over the four surveys.  At no time have more than 2 percent of patrons rated overall satisfaction with CTBL as "fair" or "poor."
"I have problems reading regular books due to eye problems and concentration and busyness of my schedule, and the Talking Library gives me the opportunity to reconnect with my community and expand my education and knowledge."
Chart 4
Respondents Overall Satisfaction with CTBL Services Over Time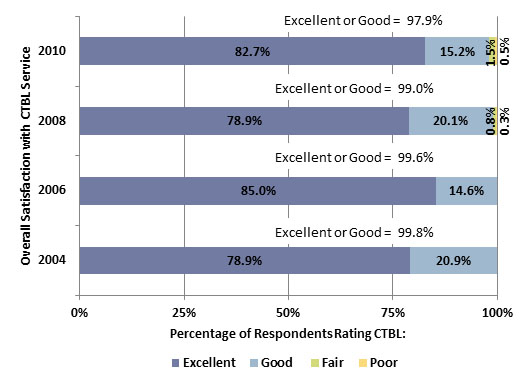 Conclusion
The vast majority of patrons are highly satisfied with CTBL service.  Nearly all respondents gave high ratings for their overall satisfaction with CTBL and individual service components.  Beyond the high ratings, the comments left by survey respondents give testimony to how important CTBL is to its patrons.  Comments show that through CTBL, patrons are able to read for pleasure, stay informed, and feel connected.
"I am 94 yrs. old. Reading has always been a big part of my life. Now I have macular degeneration and have no sight so books on tape have been a life saver for me. Thank you for allowing me to keep in touch with today's world."