Over 500 registered employers use LibraryJobline.org to post open positions. The site is managed by the Library Research Service, a unit of the Colorado State Library, and most of the jobs posted (89% in 2010) are located in Colorado. Jobseekers can tailor searches to their own qualifications and preferences and receive customized emails when new jobs of interest are posted. The database-driven site has also been gathering statistics on these job postings since 2007. This Fast Facts reports on these statistics for 2010 and outlines some of the trends in activity on the site over the past four years in an attempt to answer the ever-important questions jobseekers ask in these tough economic times: How many and what kind of jobs in our field are being posted, how much do they pay, and how many people are interested in them? It also highlights some disheartening trends that any astute jobseeker, within or outside of library work, has observed over the past 4 years: There is more competition than ever for fewer full-time, permanent positions, and salaries continue to stagnate.
Quick Look
Jobs posted since 2007: 1,788
Total MyJobline Accounts: 1,639
MyJobline users signed up to receive email notification of new posts: 1,114
Subscribers to Jobline RSS feed: 636
Twitter followers (@LibraryJobline): 124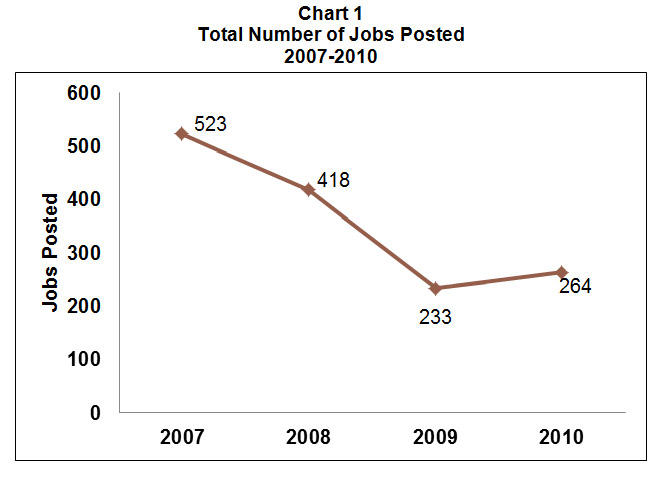 Number of Job Postings: Up Slightly from 2009 but Still Low
Total job postings rose 13 percent from 2009 to 2010, from 233 to 264, but they are still nowhere near pre-recession levels (Chart 1). Chart 2 shows a more detailed, monthly view of Library Jobline posts for January 2007 through February 2011. May 2008 was Jobline's busiest month, with 106 jobs posted. 2010 was rather unsteady from month to month, with anywhere from 13 (in March) to 36 (in February) jobs posted per month. April, June, and October tend to be good months for job posts regardless of the year.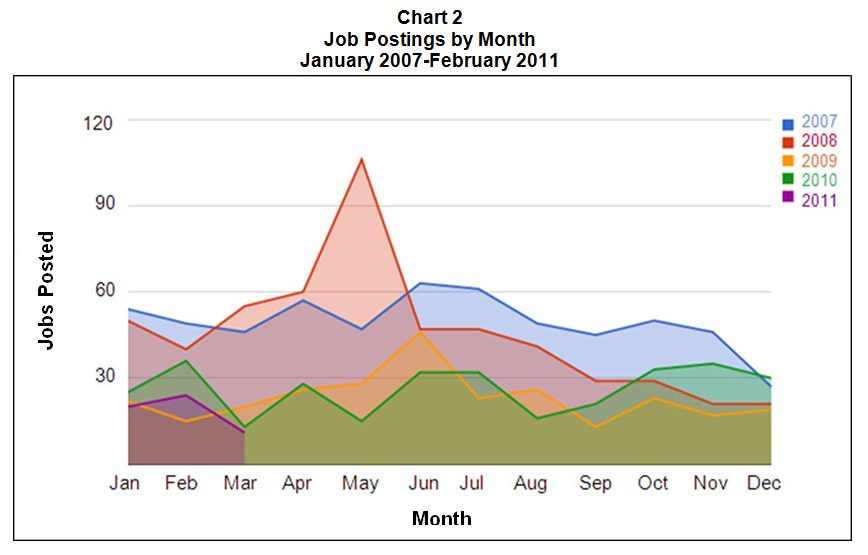 Job Views: More Jobseekers and Competition than Ever
The number of individual views of all Library Jobline posts increased dramatically from 2009 to 2010, from 416,030 to 728,024 views (Chart 3). This means an average of 2,757 people viewed each job posted. In contrast, there were 1,786 views per job in 2009 and 809 views per job in 2008.1 So, accompanying the slight increase in jobs posted in 2010 is more interest than ever in those jobs.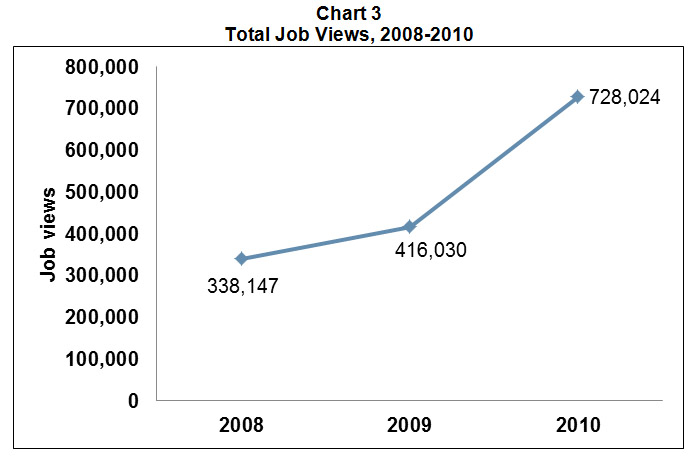 Hot Jobs
The three most popular job postings in 2010—in terms of numbers of views—were in the academic and special library sectors, a departure from the popular school library jobs most viewed in the past few years. The top three Hot Jobs of 2010 were:
Library Technician at Colorado Mountain College (3,438 views, full-time, starting salary of $34,490/year, MLIS not required)
Librarian at Front Range Community College (3,238 views, full-time, starting salary of $40,000/year, MLIS required)
Public Services Coordinator at USIS-Labat (3,147 views, full-time, starting salary of $55,000/yr, MLIS preferred)
Fewer Full-Time, Permanent Positions
Just over half (53%) of jobs posted in 2010 were full-time positions. This number reflects a steady fall in full-time job availability over the past four years. In 2009, 62 percent of Jobline postings were full-time, and in 2007, nearly three-fourths (72%) were full-time. National statistics confirm this trend: Library Journal's "Placements & Salaries Survey 2010"2 notes that "part-time employment has become a way of life for many LIS graduates, and it has steadily risen from 16.3% in 2007 to 22.8% in 2009." The study also notes that, nationwide, "permanent, professional placements continue to decline, from 75.8% in 2007 to 61% in 2009, while temporary placements increased once again (from 7.8% in 2008 to 10.6% in 2009) as did nonprofessional jobs (from 13.5% of placements in 2008 to 19.4% in 2009)."
Degree Requirements and Salaries
Of 2010's Jobline postings, one-third (33%) required an MLIS, about one-tenth (11%) preferred it, and over half (56%) did not require it. For the first time since 2007, the average starting salary for a professional position requiring an MLIS dropped, decreasing from $24.50 per hour in 2009 to $24 per hour in 2010 ($49,920/year). Salaries for jobs either preferring or not requiring an MLIS have both risen since 2009, averaging $20 per hour ($41,600/year), and $16 per hour ($33,280/year), respectively (see Chart 4).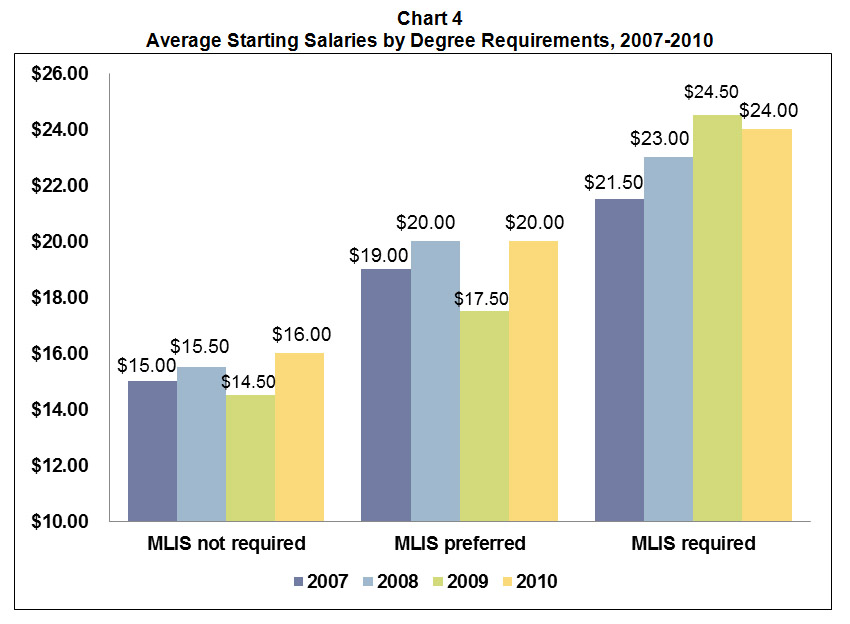 Beyond Jobline: State and National Salaries from BLS3
According to the national Occupational Employment Statistics from the Bureau of Labor Statistics (BLS), the average hourly wage for a professional Librarian position in May 2009 (the latest date for published statistics) was $26.76, placing Library Jobline's 2009 and 2010 wages at the low end of the national spectrum. However, when comparing these figures, it is important to keep in mind that Jobline figures are starting salaries. The BLS national mean hourly wages for Library Assistants-Clerical and Library Technicians were $11.92 and $14.93, respectively, putting Library Jobline's $16.00 per hour starting wage for a non-MLIS-required position on the high end of the national range. For Colorado specifically, the BLS reports higher average hourly wages than the national average: $29.58 for a Librarian and $15.22 for a Library Technician in 2009.
Conclusion
Statistics from LibraryJobline.org reveal that the total number of Colorado library jobs available appears to be slowly creeping up from recession levels, but the number of full-time, permanent positions available continues to decline, reflecting a national trend over the past few years. Salaries for all types of jobs on the site have grown little over the past four years, and Colorado jobseekers also face more competition for local library jobs than ever before, based on the ratio of jobs posted to job views.