As the country slowly recovers from the latest economic recession, librarians and future librarians are looking to salary comparisons to better understand their current and potential earnings. The ALA-APA Salary Survey provides this information annually for positions requiring an ALA-accredited master's degree. Here, we take a look at some of the highlights from this survey: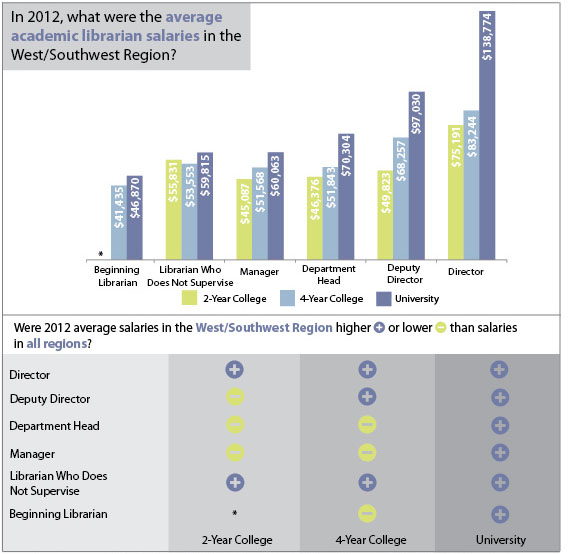 Click here for a printable version of this graphic.
For more information, see our Fast Facts, "2012 U.S. Academic Librarian Salaries: The West & Southwest Region Remains Competitive."
All data reported here are from the
2012 ALA-APA Salary Survey: Librarian—Public and Academic
report from the American Library Association-Allied Professional Association.
The West/Southwest region includes the following states: Alaska, Arizona, California, Colorado, Hawaii, Idaho, Montana, Nevada, New Mexico, Oklahoma, Oregon, Texas, Utah, Washington, and Wyoming.
*Insufficient data for this category.