A recent LRS Fast Facts used statistics from LibraryJobline.org, an online service for job seekers and employers hosted by LRS, to assess the state of Colorado's library job market in 2011 as compared to previous years. The report showed that after bottoming out in 2009, Colorado has seen a slow but steady increase in the number of library jobs posted per year. Additionally, interest in those positions, as evidenced by the number of views per job, has dropped off. While starting salaries have increased slightly for positions that did not explicitly require an MLIS, the starting salary for positions which did mandate an MLIS were stagnant.
Data from LibraryJobline.org from the first quarter of 2012 suggests good news for those seeking library jobs in Colorado. On average, there have been 33 new jobs posted per month, as compared to 26 jobs per month in 2011—an increase of 27 percent. In contrast to the first quarter of 2011 alone, in which an average of 27 jobs per month were posted, 22 percent more jobs were posted in the first quarter of 2012 (Chart 1).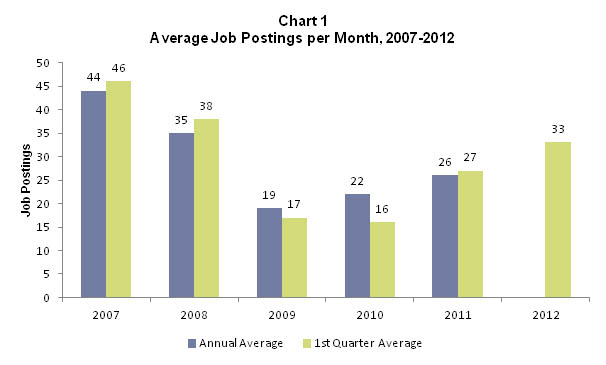 New jobs posted from January to April of 2012 were viewed an average of 761 times each, a decrease from 1,951 views per posting in all of 2011. This decrease could signify a less competitive job market, although it could be attributed to other reasons, such as the rise in the number of Library Jobline users who receive news about available positions via email, RSS feed, or Twitter.
These "Hot Jobs" were viewed more than any others in the first quarter of 2012:
Librarian, High Plains Library District, Erie Community Library
1855 views
$20/hour
30 hours/week
 Senior Librarian, The Denver Public Library, Hampden Branch Library
1828 views
$22.05/hour
40 hours/week
 Library Assistant (Substitute), City and County of Broomfield, Mamie Doud Eisenhower Public Library
1734 views
$15/hour
On call
Only 22 percent of first-quarter 2012 LibraryJobline.org postings required an MLS or MLIS degree, as compared with 33 percent in all of 2011. Nineteen percent would give preference to candidates with an MLS or MLIS, and 59 percent of all first quarter 2012 postings did not specify any such preference or requirement (Chart 2).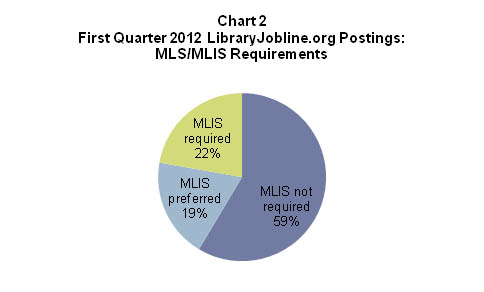 Of 147 jobs that were open (not posted) in the first quarter of 2012, 17 (12%) did not list starting salaries. With those exceptions, the average starting salary for positions that did not require or prefer an MLIS was $19 per hour, or $2 more than the average starting salary for similar positions in 2011. The starting salary for positions that preferred an MLS/MLIS dipped by $2 however, from $21 to $19 per hour. Starting salaries for positions that required an MLS/MLIS rose slightly, from an average of $24 per hour to $24.25.
Data from the first quarter of 2012 does not conclusively show changes, either for the better or worse, to the library job market in Colorado. However, this information does help job seekers and employers to stay abreast of library hiring trends.
~Chelsea
Are you an employer or job seeker? Set up a customized account at LibraryJobline.org, and follow Library Jobline on Twitter: @LibraryJobline.