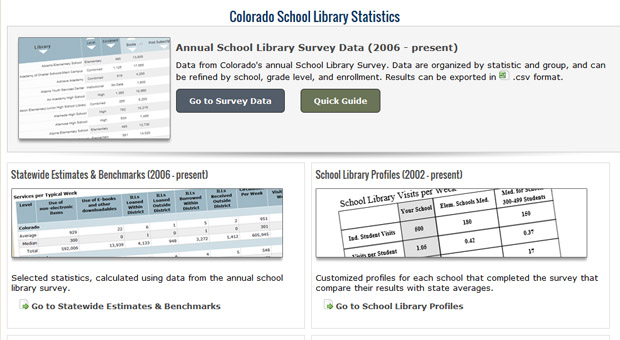 Every year, we conduct a survey of Colorado public school libraries. The results of this survey, which include information about library instruction strategies, collections, web presence, staffing, usage, and budgets, help administrators, school library staff, and other stakeholders with planning and evaluation. These results are also used to market and advocate for school libraries; for example, earlier this year we published a school library infographic that shows the impact of school libraries on academic achievement.
Results from the 2012-2013 survey are now available. We're excited to present a brand new set of tools for interacting with the survey data. The tools will enable you to:
quickly locate data for a single year and statistic group
build custom data sets by specifying statistics, grade level, enrollment, etc.
visualize data using graphs
export data in .csv format
Check them out at http://www.lrs.org/data-tools/school-libraries/annual-statistics/!