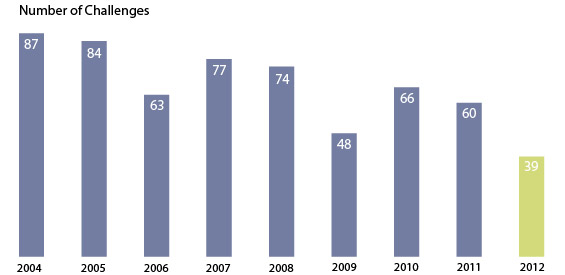 Public libraries reported only 39 challenges to their materials and services in 2012, through LRS's annual Public Library Annual Report. The number – down 35 percent from 2011 – is the lowest in at least nine years. More than half (51%) of the challenges pertain to books, though audiobook-related challenges rose by a substantial 550 percent from 2011 to 2012, and now account for 13 percent of all challenges. Challenges to items geared toward children also increased dramatically in 2012, and now make up one-third (33%) of all challenges. The reasons cited for the challenges are in keeping with the previous five years, with "sexually explicit" appearing most frequently. Also mirroring previous years: A majority (85%) of the 2012 challenges resulted in no change to the challenged item, such as removal or reclassification.
For more information on this topic, check out our new Fast Facts, Challenged Materials in Colorado Public Libraries, 2012. Also, tell us your thoughts about the decline in challenges in recent years, by commenting on our Twitter feed.
Note: This post is part of our series, "The Weekly Number." In this series, we highlight statistics that help tell the story of the 21st century library.