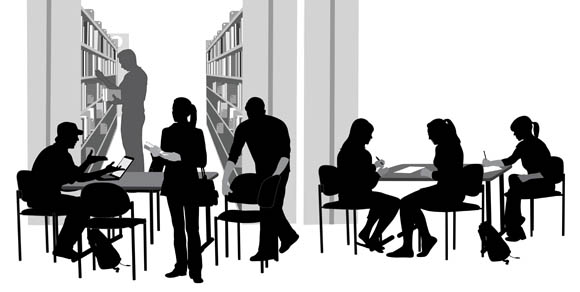 Recently, we posted results from ALA's 2015 State of America's Libraries Report about how public libraries are transforming into more digitally inclusive environments in order to better serve the needs of current and future patrons. Public libraries are not the only kind of library undergoing major transformations, however.
ALA's assessment of academic libraries found that although few libraries have seen increases in funding, many budgets have been re-allocated towards repurposing library space, migrating collections, and increasing staff focus on digital resources. Almost two-thirds (63%) of academic libraries responded that they have found new ways to provide space in the last 3 years, including writing/tutoring centers, quiet study areas, and technology spaces.
These transformational changes seem to have only just begun, too. The academic libraries also reported whether or not they planned on major changes to their library space in the next 5 years, and found that almost four-fifths (79%) of doctoral/research institutions were planning such changes, along with just over two-thirds (69%) of comprehensive institutions, just under two-thirds (65%) of baccalaureate schools, and close to half (45%) of associate-granting institutions.
While academic libraries undergoing major increases or changes in space are hoping for significant increases in usage, initial responses indicate that the libraries are still considered extremely valuable to the academic community. Well over half (59%) of chief academic officers rated library resources as "very effective" – achieving a higher rating than many other campus resources. According to the ALA report, it appears that many academic libraries are well on their way to adjusting to shifting information environments.
Want to know more? Check out the full report detailing school, academic, and public library trends here.
Note: This post is part of our series, "The Weekly Number." In this series, we highlight statistics that help tell the story of the 21st-century library.