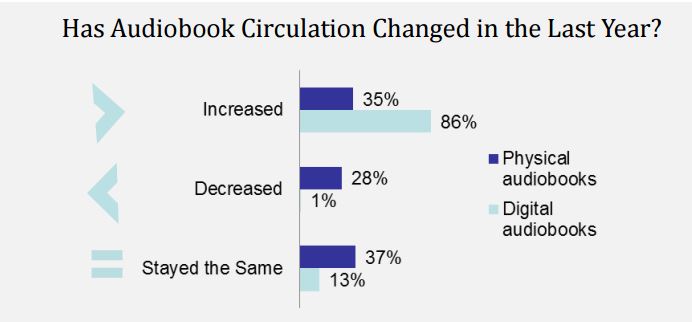 In the beginning of 2016, Library Journal surveyed 395 public libraries to create the Audiobooks and Public Libraries report. The findings included how often audiobooks are being circulated, the genres that are most popular to collect, and the changing format preference of audiobook patrons.
In 2015, audiobook circulation amounted to a little over 1 out of 10 items circulated (13%). A majority (66%) of the audiobooks circulated were physical CDs or Playaway players, rather than digital downloads. However, nearly 9 in 10 (86%) libraries reported an increase in digital audiobook circulation, while about one-third (35%) reported an increase in physical audiobook circulation. LibraryJournal projects that by 2019, downloadable and streaming audiobooks will make up 51% of an average public library's collection, as opposed to 38% in 2016.
The audiobook collections of the libraries surveyed lean heavily towards adult fiction. Three-quarters (75%) of current audiobook collections are adult titles, while the remaining quarter (25%) is comprised of young adult and children's titles. Across all titles, about 4 in 5 (79%) are fiction; for comparison, print book collections are typically about 60% fiction. Patron request is overwhelmingly the most important factor influencing audiobook purchases for the libraries surveyed. Others influencing factors included the popularity of the print book, positive reviews, and the audiobook's narrator.
For more information about audiobook use in public libraries, check out the full report here.
Note: This post is part of our series, "The LRS Number." In this series, we highlight statistics that help tell the story of the 21st-century library.