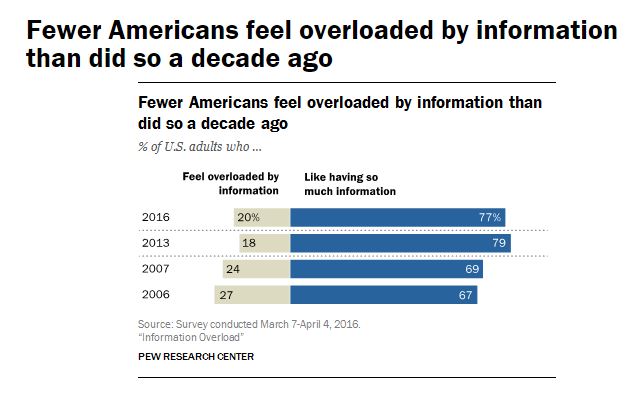 A survey conducted by the Pew Research Center found that the majority of American adults do not feel overwhelmed by information, contradicting a long-held anxiety about the consequences of "information overload."
Over three-quarters (77%) of respondents like having so much information easily available to them, compared to the 1 in 5 (20%) who feel overwhelmed by information (down from 27% who reported feeling overwhelmed in 2006). Two-thirds (67%) of respondents were happy about having more information at their disposal, saying that it helps to simplify their lives.
In general, respondents that were considered to be "gadget rich" (having a combination of broadband home internet, a smartphone, and a tablet computer to access information) were less overwhelmed by the amount of information present. More than 4 in 5 (84%) "gadget-rich" respondents like having so much information available, while only just over half of "gadget-poor" respondents said the same. "Gadget-poor" respondents were also more likely to say that the amount of information available makes their lives more complex, that they have difficulty finding the information they need, and are not confident using the internet as an informational tool.
There is no sign that the flow of information will slow down anytime soon. Librarians have an opportunity to help their patrons feel comfortable interacting with information, using information tools, and identifying false information online. As the survey results indicate, providing patrons with access to more information gadgets can be helpful for those who may not be able to afford them, as can teaching information literacy classes to increase their patrons' ability to find the information they need.
The full report can be found here.
Note: This post is part of our series, "The LRS Number." In this series, we highlight statistics that help tell the story of the 21st-century library.