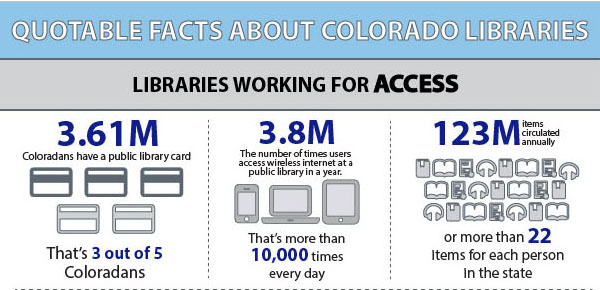 LRS recently released the latest version of Quotable Facts about Colorado Libraries, a booklet containing data and statistics about public, school, and academic libraries in Colorado. The booklet focuses on libraries working with and for their patrons, broken down into three sections: libraries working for access, knowledge, and community.
Public, school, and academic libraries circulated more than 22 items for each person in the state in the past year, which provided Coloradans with access to about 123 million items overall. More than 1 in 10 Colorado households do not have access to a computer or the internet at home, but all Colorado public libraries offer free public access internet computers and public wireless internet. Public library patrons use public access wifi at their libraries more than 10,000 times each day.
Colorado's libraries have nearly 6,000 staff that work to provide knowledge to Coloradans. Public librarians answered about 3.6 million reference questions last year, ranging from researching family genealogy to applying for Social Security online. Every week, 7 in 10 (69%) school librarians teach their students how to use digital resources to find information.
Libraries help build community by providing meeting spaces and programming that offer Coloradans an opportunity to connect with each other. There are 6 times as many libraries in Colorado than there are Starbucks coffee shops, another popular meeting space. The Read to the Children program, run by institutional libraries in Colorado's state prisons, allowed nearly 3,000 children to stay connected with incarcerated family members in the past year.
An online infographic version of the booklet is available here. If you are interested in receiving printed booklets (3.5 inches by 3 inches), contact us at (303)866-6900 or lrs@lrs.org.
Note: This post is part of our series, "The LRS Number." In this series, we highlight statistics that help tell the story of the 21st-century library.