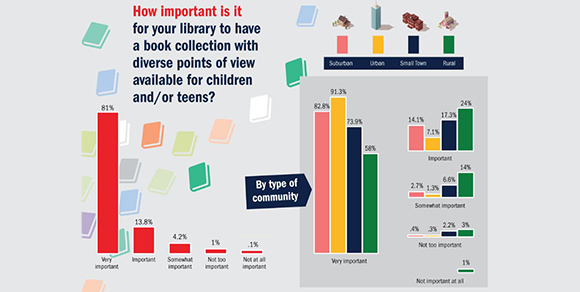 School Library Journal recently published the results of a survey asking librarians about diversity in their children's and young adult book collections. The survey administrators defined a diverse collection as one with books that feature "protagonists and experiences involving under-represented ethnicities, disabilities, cultural or religious backgrounds, gender nonconformity, or LGBTQIA+ orientations."
Out of the 1,156 school and public librarians who responded to the survey, 8 in 10 say that it is "very important" to develop a diverse book collection for children and teens. Nearly three-quarters (72%) consider it a personal mission to create a diverse collection for their patrons. Many librarians have institutional support as well – about half of respondents working in both public (54%) and school (50%) libraries have school- or district-wide collection development goals that focus on inclusive collections.
Librarians are putting their beliefs into practice when it comes to buying books for their collections. About two-thirds (68%) of respondents report purchasing more diverse children's and young adult books in the past year than in previous years. Nearly all (98%) of the librarians who responded say that they are involved in the recommendation or purchasing process of children's and young adult books for their collections, and more than 4 in 5 (84%) have the final say on which books are purchased.
While the respondents enjoy some power when it comes to diversifying their collections, it does not come without difficulty. More than 1 in 10 (13%) find it "difficult" or "very difficult" to find diverse children's and young adult titles, particularly those featuring Native or Indigenous peoples, English Language Learners, and characters with disabilities. Aside from difficulty finding books, about 1 in 7 (15%) respondents say that they chose not to buy a book with diverse characters because of the potential that the book might be challenged.
The full report can be found here.
Note: This post is part of our series, "The LRS Number." In this series, we highlight statistics that help tell the story of the 21st-century library.