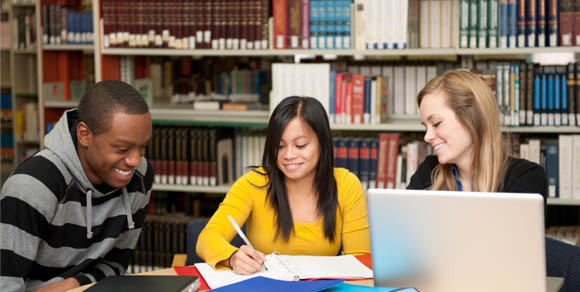 Survey results from a in a semiannual study conducted by market-research firm Student Monitor show nearly two-thirds of 1,200 college students surveyed were satisfied with their libraries on campus, with more than a third (35%) saying they were "very satisfied." Upperclassmen, females, and students who lived on campus reported higher satisfaction levels than their younger, male, and off-campus colleagues.
Almost all (92%) of this group of college students also said they prefer doing research in digital format, but a solid chunk (about 40% depending on the activity) still prefer print when reading, studying, or taking notes for class. About a quarter (26%) said they've purchased an e-textbook, and just 10% ever used an e-textbook in high school. Just over 1 in 4 (26%) used Twitter while a whopping 90% used Facebook and 64% used Instagram.
The researchers asked students to rate their experiences with various aspects of college life, including the computer lab, bookstore, dining services, housing, financial aid, and more. As part of a semiannual study, the results also show ratings over time, from fall to spring semester. According to a managing partner from Student Monitor, libraries consistently rise to the top of the value ratings while housing, textbook costs, and campus dining tend to fall to the bottom.
Read more about this study via Library Journal and The Chronicle of Higher Education. For more context, check out our previous coverage of Pew's research on young Americans' perceptions of public libraries.
Note: This post is part of our series, "The Weekly Number." In this series, we highlight statistics that help tell the story of the 21st-century library.