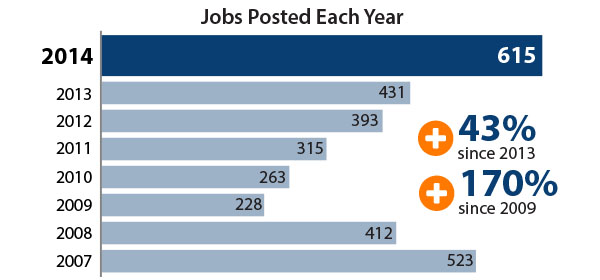 For our popular library job posting website, Library Jobline, 2014 was a spectacular year! In our newest Fast Facts report, we report a total of 615 jobs were posted in 2014—the most ever since we launched the service in 2007—and up a whopping 170% since 2009, the lowest year for job posts in the middle of the recession. Average wages also hit new highs for posts requiring ($25.31 per hour) or preferring ($24.45 per hour) the MLIS degree.
Library Jobline also became an increasingly national tool. In 2014, we had the most-ever posts for positions located outside Colorado, with the year-end picture split nearly evenly between Colorado (51%) and other states (49%). With more than 600 job seekers and more than 130 employers added in 2014 alone, jobs posted on Library Jobline also reached a wider audience. In fact, we sent the most emails ever—more than 617,000—about new job posts, and job posts were viewed nearly 430,000 times.
Are you hiring at your library? In the library job market yourself? Sign up for Library Jobline as an employer or jobseeker. Jobseekers can tell us what jobs they're interested in and get emails sent straight to their inbox whenever new posts meet their criteria. And employers can reach more than 3,500 jobseekers and more than 600 followers on Twitter @libraryjobline.
Note: This post is part of our series, "The Weekly Number." In this series, we highlight statistics that help tell the story of the 21st-century library.