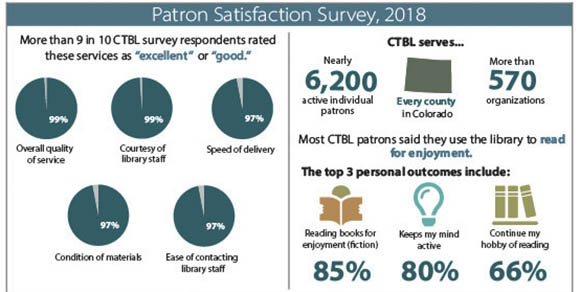 Patrons of the Colorado Talking Book Library continue to report being pleased with the quality of the library's services. On the 2018 biennial patron survey, 99% of respondents reported that the overall quality of service was good or excellent. And, 95% or more respondents reported that the following areas of service were good or excellent:  courtesy of staff, speed of delivery, condition of materials, ease of contacting the library, and the playback machine loaned by the library.
The survey also asked patrons how the service has been valuable to them. The most common response was to "read for enjoyment: fiction," which was selected by 85% of respondents. The second most common response was "keeps my mind active," from 80% of respondents.
In 2018, the survey asked patrons "What's the hardest thing about your day?" More than one out of every four respondents (26%) said transportation was the hardest thing about their day. The second most common response was "isolation, depression, or motivation," which 17% of respondents reported.
This version of the survey also had a new respondent age category. Instead of 61+ as the oldest age group, survey respondents could select 61 to 75 or 76+. This additional category was helpful because the largest portion of survey respondents was in the 76+ age group (45%), which reflects that this age group is also the largest category of CTBL patrons, making up more about half (51%) of all patrons.
Information from the survey helps the Colorado Talking Book Library continue to refine their offerings to provide the best possible service to their patrons.
For the full report on the 2018 survey findings, click here, and for the Fast Facts, click here.
Note: This post is part of our series, "The LRS Number." In this series, we highlight statistics that help tell the story of the 21st-century library.