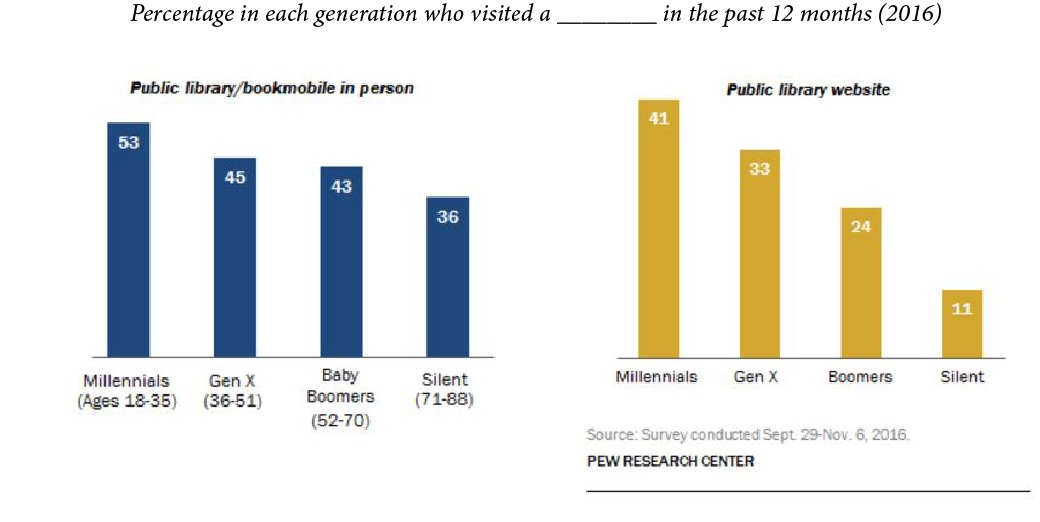 In a new analysis of data collected in a 2016 survey, Pew Research Center found that Millennials were the most likely generation to say they used their public library in the past year, either through the library's physical premises or online. The analysis also reveals other demographic trends in library use.
Over half (53%) of the Millennials (those ages 18 to 35) surveyed report that they have used a public library or bookmobile within the previous year. This is compared to about 2 in 5 of both Gen Xers (those ages 36-51; 45%) and Baby Boomers (those ages 52-70; 43%) and a little over a third (36%) of respondents in the Silent Generation (ages 71-88). Millennials also tend to take advantage of the resources found on their public library's website most often – more than 2 in 5 (44%) Millennials report using their library website in the past year, while a third (33%) of GenXers, about a quarter (24%) of Baby Boomers, and about 1 in 10 (11%) of the Silent Generation report the same.
Pew's new analysis also reveals differences in library use based on gender and parental status. In the 2016 survey, over half of women (54%) said that they had visited a public library or bookmobile in that past year, while about 2 in 5 men (39%) said the same. Similarly, about 2 in 5 (37%) women had visited their library's website, while about a quarter of men (24%) did. Parents were also more likely to have visited their library's physical premises than nonparents in the past year (54% vs. 43%).
For more information about generational and demographic library use, the full article can be found here.
Note: This post is part of our series, "The LRS Number." In this series, we highlight statistics that help tell the story of the 21st-century library.