Each year, the Library Research Service (LRS) collects data from Colorado's 114 public libraries and presents it in the Public Library Annual Report. Among this data is information about which items were formally challenged in Colorado's public libraries. In 2010, 20 libraries reported challenges, and 19 of those libraries responded to a follow-up survey detailing the reasons for 66 of those challenges. No title was challenged more than once. This report looks at 2010's challenges, including the format and intended audience of the items and the actions taken by the libraries in response, as well as the total number of challenges reported annually in the last decade.
Change over Time
The number of challenges reported in Colorado in each of the past 10 years has fallen between 48 and 87, averaging 69 titles per year (see Chart 1).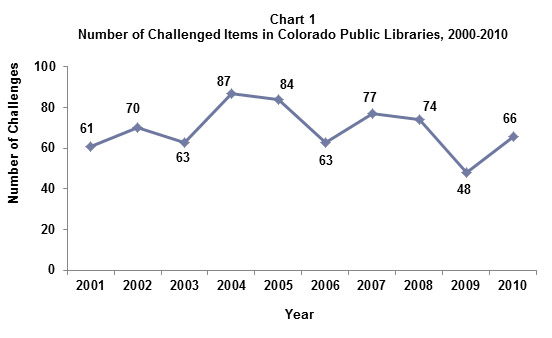 As seen in the next section, however, the formats being challenged are changing.
Formats Challenged
Videos and online resources each received more challenges in 2010 than books (see Chart 2), a departure from the past 9 years, which all saw books receiving the most challenges. The dramatic increase in online resource challenges is due to many requests for adult sites to be unblocked from filtering software, which all came from 1 library. Challenges to periodicals challenges decreased slightly from 2009, while sound recording and "other" challenges (in this case a single exhibit) remained comparable with previous years.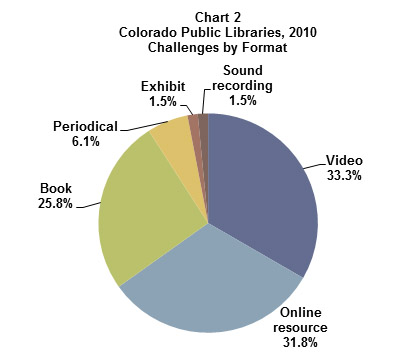 Reasons for Challenges
The top 3 reasons for challenges in 2010 were requests for sites to be unblocked by library filtering software, unsuitability to age groups, and sexual explicitness (see Table 1). Several items were challenged on the basis of more than one reason, accounting for the discrepancy between the sum of the frequencies and the 66 total challenged items. Historically, sexual explicitness, unsuitability to age group, and offensive language have been the most common reasons for challenges.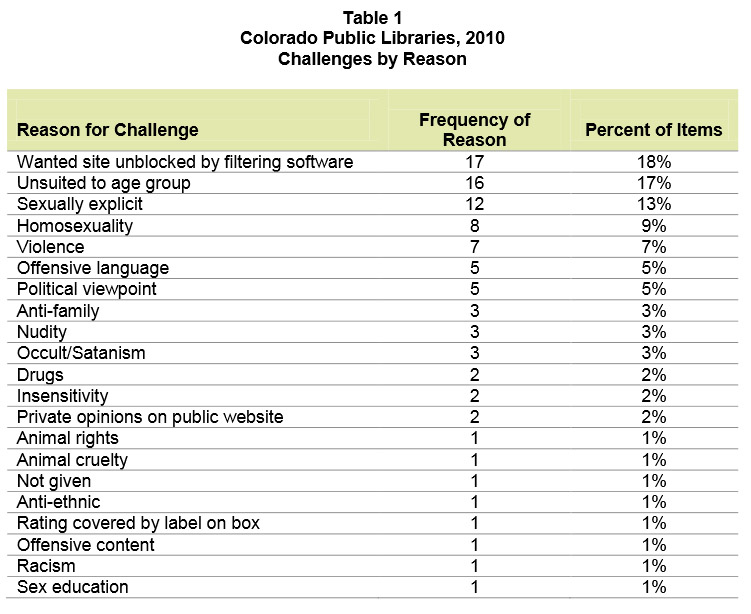 Audience
Most (68%) challenged materials in 2010 were adult materials, and young adult (YA) and children's materials were just about equally represented in the remaining 32% of challenges (Chart 3). Over the past 10 years, adult materials have been challenged most frequently (usually falling near 50%), followed by children's then YA materials.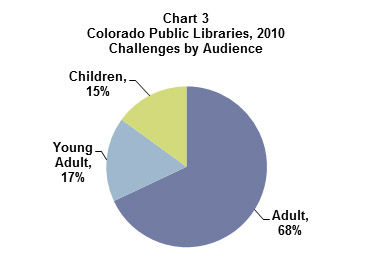 Results/Actions Taken
No items were removed from library collections due to challenges in 2010. As in previous years, most challenges (88%) this year resulted in no change in the item's status (Chart 4). Nine percent of the challenges were dropped by the patron, 2% resulted in the item being moved to a different section of the library (i.e., 1 video was moved from children's to YA), and just 1 item elicited an apology from the library and the re-placement of a sticker that was blocking content on a DVD case.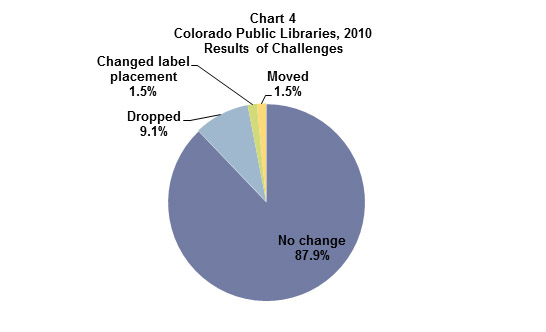 ALA's National List of Top 10 Banned/Challenged Books: 2000-2009
1.
Harry Potter
(series), by J.K. Rowling
2.
Alice
series, by Phyllis Reynolds Naylor
3.
The Chocolate War
, by Robert Cormier
4.
And Tango Makes Three
, by Justin Richardson/Peter Parnell
5.
Of Mice and Men
, by John Steinbeck
6.
I Know Why the Caged Bird Sings
, by Maya Angelou
7.
Scary Stories
(series), by Alvin Schwartz
8.
His Dark Materials
(series), by Philip Pullman
9.
ttyl; ttfn; l8r g8r
(series), by Myracle, Lauren
10.
The Perks of Being a Wallflower
, by Stephen Chbosky
http://www.ala.org/advocacy/banned/frequentlychallenged/challengedbydecade/2000_2009
Based on data Colorado public libraries have reported to LRS, 2010 was a typical year for challenged materials: an average number of challenges were reported—mostly adult materials—and nothing was removed from Colorado's collections. The one notable change in 2010 data is the increase in challenges to videos and websites, marking a shift away from book challenges. As library collections evolve beyond books, we can expect patrons' attention and concern to shift towards online content and videos as well.