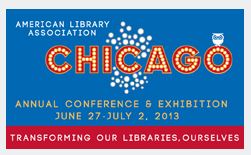 Will you be attending ALA Annual? These are the research and statistics sessions that are on our radar:
Friday

8:30AM-4:00PM (preconference): Planning, Assessing, and Communicating Library Impact: Putting the Standards for Libraries of Higher Education into Action
9:00AM-3:00PM (preconference): International Statistics: Helping Library Users Understand the Global Community
Saturday
8:30-9:30AM: Data-Driven Services: Library Research Roundtable Forum
8:30-10:00AM: From Outputs to Outcomes: Measuring What Matters
10:30-11:30AM: Ebook Data Evaluation through the Eyes of an Academic Librarian and a Public Librarian: A Tale of Two Libraries
10:30-11:30AM: Is it Worth it? Assessing Online Instruction
1:00-2:00PM: Research at Your Service: Latinos & Their Information Needs on Center Stage
1:00-2:30PM: 19th Annual Reference Research Forum
1:00-2:30PM: Mentorship Program Forum: Library Research Roundtable Initiative
3:00-4:00PM: The Census, Your Patrons, and the DataFerrett (hands-on workshop about using census data)
4:00-5:30PM: The Myth and the Reality of the Evolving Patron
Sunday
8:30-10:00AM: Do These Evaluation Statistics Mean Anything?
10:30-11:30AM: The Myth and the Reality of the Evolving Patron: The Discussion Continues
10:30-11:30AM: Does Your Data Deliver for Decision Making? New Directions for Resource Sharing Assessment
1:00-2:30PM: New Pew Research: Libraries + Parents = Innovation and Success
1:00-2:30PM: Studying Ourselves: Libraries and the User Experience
Monday
10:30-11:30AM: Is This Trend a Library Friend? Understanding Current Analytical Measures
10:30-11:30AM: Measuring Up: Developing New Metrics for Assessing Library Performance
1:00-2:30PM: School Library Research