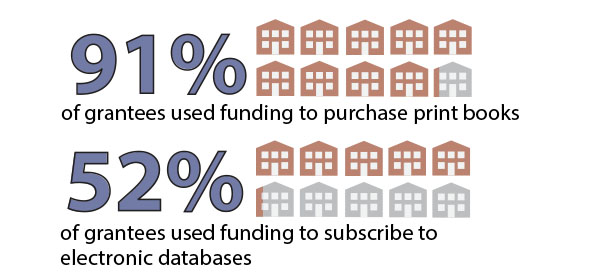 We recently told you about the State Grants to Libraries Act (CRS 24-90-401) that offered $2 million to Colorado's libraries and how many libraries were able to purchase materials thanks to the funds. We've now received preliminary data for the 2013-14 grant cycle highlighting just how those grants were used, and the impact is clear: State funding played a major role in building collections for libraries across the state.
More than 9 in 10 library recipients used the funds to purchase print books, totaling nearly 140,000 books added to library collections. Nearly 40% of recipients bought about 10,000 e-books. And more than half of library grant recipients purchased access to electronic databases for their patrons.
And it's not just about the data: Libraries shared great stories showcasing the impact the state funding has had on their library and patrons. Here are a couple of our favorites:
It was a new book extravaganza! We were able to weed many aged and ragamuffin books. We refreshed our collection and it reignited our love for reading!
We are a 1:1 technology district, and this allowed us to expand our digital resources. It is helping us transform the way students think and learn.
We saw circulation rise by 13-29% at two branches because we can offer more targeted resources customers want and need.
Want to see more highlights and quotes from the 2013-14 grant cycle? Check out our new Fast Facts.
Final numbers for the 2013-14 grants will be available later this fall. And the cycle for 2014-15 is well underway with the $2 million appropriation renewed by the 2014 Colorado Legislature and funds scheduled for disbursement this fall. We're looking forward to seeing how libraries use this year's awards!
Note: This post is part of our series, "The Weekly Number." In this series, we highlight statistics that help tell the story of the 21st-century library.